Cardiotraining is aangenamer als je zelf bepaalt hoe hard je traint

Als mensen zelf mogen bepalen hoe intensief ze trainen, dan ervaren ze hun cardiotraining minder onaangenaam dan als ze die vrijheid niet hebben. En dat geldt ook als de intensiteit van die training geen factor is. Dat schrijven sportwetenschappers van de universiteit van Exeter in BMC Sports Science, Medicine, and Rehabilitation.

Studie


De onderzoekers lieten 27 tienermeisjes meerdere keren 20 min lopen op een treadmill. De eerste keer mochten de meisjes zelf bepalen hoe hard ze liepen of renden. [Self-selected session] Tijdens die sessie registreerden de onderzoekers de intensiteit van de meisjes. De tweede keer bepaalde de treadmill hoe hard de meisjes renden [Prescribed session].



Het apparaat liet de meisjes toen net zo hard en net zo lang rennen als ze eerder uit zichzelf hadden gedaan. De machine liet de meisjes hun eerdere workout dus kopierën - maar dan zonder dat zijzelf de regie hadden.



Resultaten
De tabel hieronder vertelt dat de proefpersonen zich bij beide tests even hard inspanden.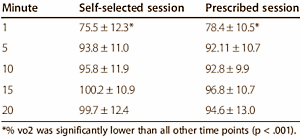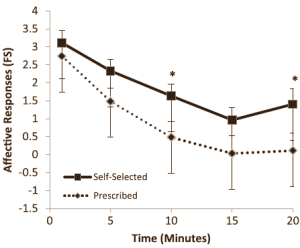 Toch vonden de proefpersonen de sessie vervelender en vermoeiender als niet zijzelf, maar de treadmill bepaalde hoe intensief ze zich moesten inspannen. Dat vertelt de figuur hierboven.
Slot
"With the current decline in physical activity in adolescent females these findings are particularly relevant", schrijven de onderzoekers. "To identify ways of enhancing one's exercise experience with the aim of improving adherence to exercise may be useful in stopping this decline in physical activity."
"The current study demonstrated that allowing adolescent females autonomy over the intensity of their exercise session, instead of prescribing it and removing that autonomy, elicited more positive affective responses and lower ratings of perceived exertion."
"These findings demonstrate the importance of autonomy and self-paced physical activity in the public health domain and support several studies highlighting the relationships that exist between autonomy and self-paced physical activity and affective response to exercise. Even though the intensity did not differ between the self-selected and prescribed sessions, there was a significant impact on the quality of the affective experience, which may have potential long-term implications for adherence to exercise."
Bron:
BMC Sports Sci Med Rehabil. 2014 Sep 25;6:35.