Laxogenin en 5-hydroxy-laxogenin: natuurlijke anabolen die de werking van de echte anabole steroïden versterken

Bodybuilders die geregeld grasduinen in supplementenshops [creanite.com] kennen de producten met laxogenin en het nauw verwante 5-hydroxy-laxogenin. Meestal zitten ze in capsules, maar er zijn ook een paar producten in gelvorm die je op je huid moet smeren. Volgens een patentaanvraag zijn laxogenin en 5-hydroxy-laxogenin ook interessant voor anti-agers en anabolengebruikers. En nou maar hopen dat de opstellers van het patent al dat moois niet uit hun duim hebben gezogen.

Laxogenin


Laxogenin is een spirostan. Net als ecdysteroïden zitten spirostanes in planten. De laxogenin en de 5-alpha-hydroxy-laxogenin die op dit moment zo hip zijn in supplementenland komen uit de Chinese plant Smilax sieboldii. De eerste structuurformule hieronder is die van laxogenin, de tweede is die van 5-alpa-hydroxy-laxogenin. Ter vergelijking zie je hiernaast de structuurformule van ecdysten, het meest gebruikte ecdysteroid in supplementen.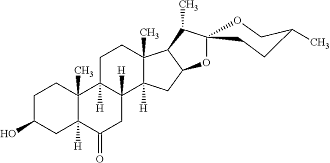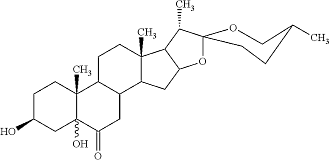 Anabole werking


Volgens dierstudies hebben stoffen als ecdysten een anabole werking. Hoe dit soort stoffen mogelijkerwijs spiercellen kunnen vergroten lees je hier. De enige gepubliceerde studies die aantonen dat laxogenin een anabole werking heeft komen uit de voormalige Sovjet-Unie. We hebben ze nog niet in handen kunnen krijgen.

De opstellers van patentaanvraag US 20140274978 wekken de indruk dat ze over onderzoeksgegevens beschikken die nog niet zijn gepubliceerd - en misschien ook nooit gepubliceerd zullen worden. Of dat echt zo is weten we niet. Voor hetzelfde geld hebben de schrijvers van het patent alles verzonnen. Maar desondanks vonden we zeven dingen in de aanvraag die we graag met je willen delen.

1. Interessant voor krachtsporters
"Spirostane and/or spirostene compounds of the present invention are useful as non-hormonal anabolic agents which increase athletic performance and work output in humans and other mammals in doses of 1-60 mg three times per day."

"In young human volunteers receiving 10-20 mg/day of the phytosterol derivative compounds of the present invention in combination with physical training, subjects reported an increase in appetite, accelerated strength and weight gain, and a virtual elimination of lactic acid formation during intense exercise such as weight resistance training. Work output before failure was also reported to be increased substantially."

2. Anti-ageing-effect
"The spirostanic compounds of the invention are also useful in increasing and restoring health and vigor, useful in preventing fatigue, and useful in improving physical condition and performance and increasing work output in aging humans and other mammals. For example, 15 mg of 5-hydroxy-laxogenin was given to a 65 year old woman in three divided doses per day (t.i.d.) for two weeks. She reported an overall increase in well-being, accompanied by a definite increase in energy and physical stamina which permitted her to work 2-3 times as long in her garden."

3. Verbetert slaap
"One 80 year old male and one 79 year old female volunteer, both receiving 60 mg/day of the same compound, reported definite increases in physical energy and stamina within one week of beginning administration. The couple also found that their total sleep time increased from 6 hrs/night to approximately 8 hrs/night over the course of one month and that this increased sleep was more restful."

4. Geen hormonale werking
"Competitive binding inhibition studies conducted at Baylor University in Texas showed that 5-alpha-hydroxy-laxogenin did not bind to androgen or estrogen receptors."

5. Heeft meer anabole werking in combinatie met 7-keto-diosgenin
"The present inventor has found that 7-keto-diosgenin [structuurformule hieronder] is unexpectedly synergistic in effects with laxogenin and/or 5-hydroxy laxogenin (which do not appear to synergize with each other). A 1:1 ration of 7-keto-diosgenin to laxogenin and/or 5-hydroxy-laxogenin has been found to be effective."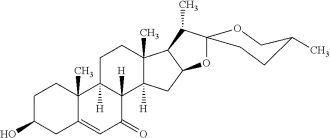 6. Versterkt werking van anabole steroïden
"The present inventor has found that 7-keto-diosgenin, 5-hydroxy-laxogenin and laxogenin are all synergistic with anabolic substances, including anabolic steroids, particularly the synergistic combination of 7-keto-diosgenin with 5-hydroxy-laxogenin or laxogenin, with anabolic substances including anabolic steroids."
"Competitive bodybuilders who were currently using various anabolic steroids volunteered to also use 5-alpha-hydroxy-laxogenin or 7-keto-diosgenin in divided doses totaling 20 mg/day. These volunteers reported greatly accelerated increases in muscle mass (between 10-20 lbs over two months); these increases were far beyond what they had previously experienced using only conventional anabolic steroids."
7. Doseringen
"In general, for laxogenin, 5-hydroxy-laxogenin and 7-keto-diosgenin, one can take the age of the subject, divide by two, and resulting number is an effective oral daily dose in milligrams for a person of average body weight (70 kg/154 lbs). The dose can be proportionately increased for persons of greater than average body weight. Effective doses should preferably be taken in 2-3 equal doses per day."
Bron:
Patentaanvraag US 20140274978 A1.
Meer:
Diosgenin, het plantaardige anabool in Smilax en Yam (12-6-2014)
Leugens en bedrog rond anabool supplement laxogenin (29-8-2007)
Plantensteroid diosgenin schakelt anabole signaalroute aan (27-6-2007)