Metastudie: supplement met vitamine D vergroot spierkracht

Vitamine D heeft niet alleen een sleutelfunctie in het sterk houden van het skelet, maar speelt ook een belangrijke rol bij spiergroei. Omdat bijna iedereen te weinig vitamine D in zijn bloed heeft, zou je verwachten dat gezonde mensen sterker worden als ze extra vitamine D slikken. Britse sportwetenschappers analyseerden de gegevens uit 6 eerder gepubliceerde studies en concludeerden dat vitamine D-suppletie inderdaad de spierkracht vergroot.

Vitamine D


De meeste wetenschappers zijn het er onderling al zo ongeveer over eens dat ouderen sterker kunnen worden als extra vitamine D slikken. De vitamine D-spiegel van veel ouderen is nu eenmaal schrikbarend laag. Maar of vitamine D-suppletie ook bij jonge en gezonde mensen spieren sterker maakt, daarover verschillen de wetenschappers nog van mening.

Studie
Sportwetenschappers van de Queen Mary University of London vonden 6 goede studies waaraan in totaal 370 gezonde mannen en vrouwen van 18-40 jaar als proefpersoon hadden meegewerkt. In die studies slikten proefpersonen dagelijkse doses van ongeveer 4000 IE vitamine D per dag.

Meer gegevens over de proefpersonen en de studies staan hieronder. LP = leg press; CP = chest press; LC = leg curl; BP = bench press; LPID = leg press isokinetic dynamometer; BPID = bench press isokinetic dynamometer; GSIK = gastrocnemius-soleus strength via an isokinetic dynamometer; HG = handgrip on isokinetic dynamometer; PG = pinch grip on isokinetic dynamometer; IMQ = isometric quadriceps contraction.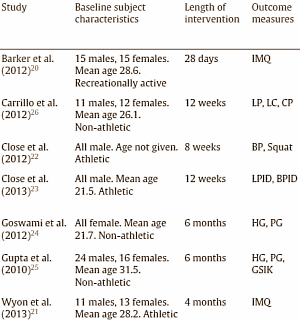 Zoals je ziet waren de proefpersonen in een aantal van die studies sporters. En of het nou sporters waren of niet, suppletie met vitamine D liet hun spierkracht toenemen.
De eerste figuur heeft betrekking op de spierkracht van het onderlichaam, de tweede op het bovenlichaam.
Conclusie
"Vitamin D3 supplementation improves upper and lower limb muscle strength in a healthy, adult, athletic and non-athletic population between the ages of 18 and 40", schrijven de Britten. "Nevertheless, the evidence was based on a restricted total number of included studies, suggesting that further, randomized controlled trials should establish optimal dosing regimen, control for gender differencesand consider effects in larger athletic populations. There is a need for further investigation into muscular power and endurance with vitamin D supplementation."
"Research hassuggested that it may be necessary to increase serum concentrations above the optimal concentrations (>50 nmol/L (20 ng/ml)) of vitamin D in order to suitably improve muscle strength. Although all of the studies used managed to increase their subjects serum levels to adequate concentrations, none reported 'optimal' levels."
"No symptoms of vitamin D toxicity (>375 nmol/L(150.2 ng/ml)) were mentioned in any of the studies, suggesting the regimen used in these studies were safe."
Bron:
J Sci Med Sport. 2014 Aug 11. pii: S1440-2440(14)00163-7.
Meer:
Dierstudie: 1000 IE vitamine D3 remt spierafbraak in sporters (31-10-2013)
Vitamine D3 versterkt de anabole werking van leucine (12-8-2013)
Vitamine D verbetert spierkwaliteit (30-3-2011)