Chlorella versnelt genezing van depressie
Suppletie met 1800 milligram Chlorella vulgaris per dag versnelt de genezing van een depressie. Dat meldden onderzoekers uit Iran in 2015 in Complementary Therapies in Medicine. De Iraniërs gaven het supplement aan mensen met een ernstige depressie, die ook antidepressiva kregen.
Studie
De onderzoekers gaven vijftig mensen met een zware depressie naast hun medicatie elke dag 1800 milligram Chlorella. Ze gebruikten een product van het Duitse Algomed. [algomed.de] Algomed betaalde niet mee aan de studie.
Een vergelijkbare en even grote groep slikte elke dag een placebo.
Resultaten
Voor en na de 6 weken die het experiment in beslag nam, vulden de proefpersoon de Hospital Anxiety and Depression Scale in. Dat is een gestandaardiseerde vragenlijst waarmee psychiaters angststoornissen en depressies opsporen.
In beide groepen zakten de scores, maar de afname was sterker in de Chlorellagroep.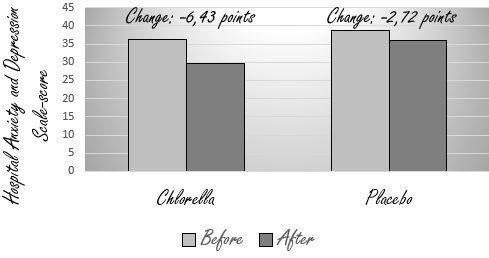 Toen de onderzoekers keken naar het effect op angst en depressie afzonderlijk, zagen ze dat Chlorella op beide dimensies een positief effect had.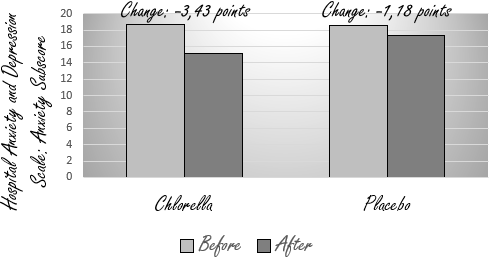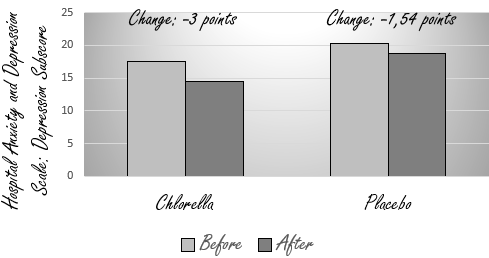 Mechanisme


"Malfunctioning of the mitochondrial electron transport chain is implicated in the pathogenesis of a range of neuropsychiatric disorders such as depression, bipolar disorders and schizophrenia", schrijven de Iraniërs.

"A lower ATP production has been reported in biopsied muscles from depressed individuals with somatic complaints. Moreover, a higher prevalence of depression has been demonstrated inpatients with mitochondrial disorders. Chlorella vulgaris extract contains several components that aid energy production and promote the biogenesis of mitochondria."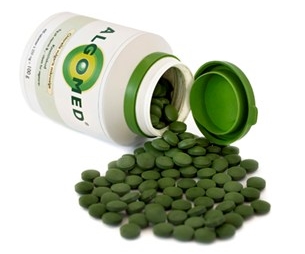 Conclusie
"Findings of the present exploratory pilot trial, being the first of its kind, showed that addition of a Chlorella vulgaris extract to the routine antidepressant treatment of major depressive disorder is associated with an improved control of depression and anxiety", schrijven de onderzoekers.

"Whilst these findings represent the first clinical evidence on the efficacy of Chlorella vulgaris extract in treating major depressive disorder, future double-blind studies are required to validate the present results with larger populations and longer durations follow-up."

"The benefit of adjunctive therapy with Chlorella vulgaris in other psychological disorders such as bipolar disorder, post-traumatic stress disorder and schizophrenia also merits further investigation."

"Finally, future studies are recommended to assess the changes in plasma antioxidant status and correlate these changes with improvements in the symptoms of depression and anxiety."

Bron:
Complement Ther Med. 2015 Aug;23(4):598-602.

Meer:
Tijdens zware fysieke inspanning versterkt Chlorella het immuunsysteem (19-9-2017)
Chlorella maakt cholesterol in voeding onschadelijk (24-8-2016)
Chlorellasuppletie vergroot maximale opname van zuurstof (25-11-2014)