Vezelrijke voeding verlengt het leven

Hoe meer vezels er in je voeding zitten, hoe langer leef je. Dat schrijven onderzoekers van het Chinse PLA General Hospital in Bejing in Molecular Nutrition and Food Research.

Studie


De onderzoekers veegden de gegevens uit 25 eerder gepubliceerde studies, waaraan in totaal 1.8 miljoen hadden meegewerkt, bij elkaar en analyseerden die opnieuw. De periode waarin de gebruikte studies de studiedeelnemers hadden gevolgd varieerde van 1 tot 40 jaar.

Resultaten
Studiedeelnemers met verhoudingsgewijs veel voedingsvezels in hun dieet hadden een lagere sterftekans dan studiedeelnemers met die weinig vezels aten. Vezels verminderden vooral de kans op sterfte door hart- en vaatziekten, maar ook de kans op dodelijke vormen van kanker verminderde door een vezelrijk dieet.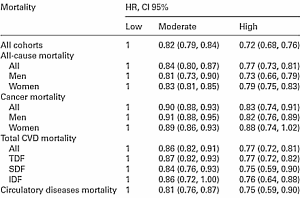 CVD = cardiovascular diseases; IDF = insoluble dietary fiber; SDF = soluble dietary fiber; TDF = total dietary fiber.
De Chinezen berekenden dat voor elke 10 gram vezels die je per dag extra eet je sterftekans met 13 procent vermindert. Dat effect was statistisch significant.
De kans op sterfte door kanker vermindert met elke 10 gram vezels per dag met 9 procent, de kans op sterfte door hart- en vaatziekten met 17 procent. Maar die effecten waren niet significant.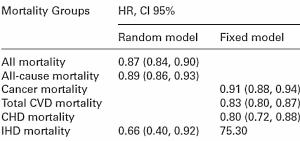 CHD = coronary heart diseases; CVD = cardiovascular disease; IHD = ischemic heart disease.
Mechanisme
"The potential mechanisms for our findings are biologically plausible", schrijven de onderzoekers. "High fiber intake is known to improve serum lipid concentrations and immune function, and slow glucose absorption and improve insulin sensitivity. Dietary fiber may lower glycemic load of rapidly digestible and absorbable dietary carbohydrates, and associate with lower serum interleukin-6 and tumor necrosis factor-alpha receptor-2. High-fiber diet has been associated with higher plasma levels of anti-inflammatory adiponectin."
"In addition, these effects of fiber have been shown to lower total and LDL-cholesterol levels and improve insulin sensitivity. Furthermore, high fiber consumption may lower the risk of type 2 diabetes, which may partly explain the associations with CVD and all-cause mortality. Soluble fiber-containing foods such as fruit and vegetables may slow down or reduce glucose absorption in the intestine due to a reduction in the glycemic index. However, further study on the potential mechanism is required."
Slot
De beste bronnen van voedingsvezels in ons dieet zijn peulvruchten, op de tweede plaats komen groenten. Dat zie je respectievelijk deze en deze tabel. We hebben ze gepikt van de webstek van Mayo Clinic. [mayoclinic.org]
In epidemiologische studies leven mensen langer naarmate ze meer bonen eten. Vast geen toeval.
Bron:
Mol Nutr Food Res. 2015 Jan;59(1):139-46.

Meer:
Dierstudie: inuline-vezels verlengen levensduur met dertig procent (21-4-2008)