Pilletje met 15 milligram capsaicïne voor de workout maakt intensievere krachttraining mogelijk

Bodybuilders en andere krachtsporters die 45 minuten voor hun workout een supplement met 15 milligram capsaicïne slikken, kunnen daardoor meer reps uit hun sets halen - en trainen dus intensiever. Dat ontdekten Braziliaanse bewegingswetenschapper van de Sao Paulo State University.

Studie
De onderzoekers lieten 10 getrainde mannen bij twee gelegenheden squatten. De proefpersonen maakten bij beide gelegenheden 4 sets met 70 procent van de belasting waarmee nog net 1 rep mogelijk was. Tussen de sets rustten de proefpersonen anderhalve minuut.

De ene keer slikten de proefpersonen 45 minuten voordat ze onder het ijzer gingen 12 milligram capsaicïne, de andere keer een placebo. "This timing was selected because capsaicin reaches peak concentrations 45 minutes following supplementation [J Med Assoc Thai. 2009 Jan;92(1):108-13.], the half-life of capsaicin is approximately 25 minutes, and full clearance from the plasma occurs approximately 105 min following supplementation [J Control Release. 2014 Dec 28;196:96-105.]", verklaren de Brazilianen.

Resultaten
De proefpersonen maakten meer reps tijdens hun sets als ze capsaicïne hadden geslikt.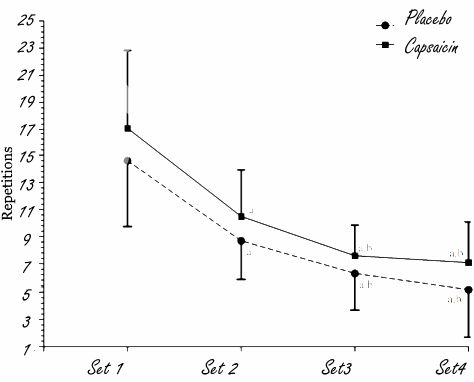 De suppletie met capsaicïne vergrootte het trainingsvolume. Toch rapporteerden de proefpersonen niet meer, maar minder vermoeidheid als ze capsaicïne hadden gebruikt.




Verondersteld mechanisme


De Brazilianen schuiven drie theorieën naar voren die de prestatieverbeterende werking van capsaicïne kunnen verklaren. Eentje is dat capsaicïne pijnprikkels remt.

"Topical capsaicin has been used as a pain reliever in neuropathic conditions and sufficient doses of capsaicin that activate the TRPV1 receptor have been shown to possess analgesic effects by inactivating or desensitizing primary affect nerve endings as a result of calcium overload", schrijven ze.

Volgens een andere theorie stimuleert capsaicïne het samentrekken van spiervezels. "The ergogenic effects of capsaicin on resistance exercise performance observed in the present study may have been through the modulation of the TRPV1 channel", schrijven de onderzoekers. "The activation of this receptor in skeletal muscle increases calcium release by sarcoplasmic reticulum [PLoS One. 2013;8(3):e58673.] leading to greater interaction of actin-myosin filaments and greater tension generation [Am J Physiol Endocrinol Metab. 2014 May 15;306(10):E1110-9.]."

"In addition, an increase in CNS activity and epinephrine secretion via activation of TRPV1 receptor by capsaicin [J Nutr Sci Vitaminol (Tokyo). 2007 Apr;53(2):124-32.] may also have contributed toward the increase in total volume performed."

Conclusie
"Given that greater resistance training volumes are highly associated with muscular hypertrophy, therefore it is possible that chronic pre-training capsaicin supplementation could lead to greater strength and hypertrophic adaptations", concluderen de onderzoekers. "However, future research is required to test this hypothesis."

Die slotzin is relevant. Er zijn aanwijzingen dat bij continu gebruik van capsaicïne de ergogene effecten uitdoven, wellicht doordat de spiercellen 'doof' worden voor de verhoogde calciumconcentratie. "Opheim and Rankin [J Strength Cond Res. 2012 Feb;26(2):319-26.] reported that capsaicin supplementation (25.8mg/d) for seven days did not enhance repeat sprint performance in experienced athletes", schrijven de Brazilianen.

"The supplement administration protocol (acute vs. chronic) may be partially responsible for the discrepancies in the results. In the present study capsaicin was administered acutely whereas in Opheim and Rankin it was administered chronically. It is possible that chronic capsaicin ingestion may result in a desensitization effect that blunts the performance benefits."

Bron:
J Strength Cond Res. 2017 Jul 3. doi: 10.1519/JSC.0000000000002109. [Epub ahead of print].

Meer:
Bodybuilders maken twintig procent meer reps door rode bietensap (28-4-2016)
Vrouwelijke bodybuilders maken fors meer reps door citrulline-malaat (21-2-2016)
Bodybuilder maakt na 8 gram citrulline-malaat 9 procent meer reps (5-7-2015)