Hoge inname vitamine C zorgt bij vijftigplussers voor sterke botten

Vijftigplussers die niet of weinig bewegen verminderen hun kans op botontkalking als ze elke dag een stevige dosis vitamine C binnenkrijgen. Dat melden Zuid-Koreaanse bewegingswetenschappers in de Journal of Physical Therapy Science. Bij vijftigplussers die veel bewegen heeft een hoge inname van vitamine C geen positief effect op de botmassa. Het positieve effect van beweging is zo sterk dat het positieve effect van vitamine C wegvalt.

Studie


De onderzoekers bestudeerden 3047 Koreaanse 50-plussers in de periode 2008-2011. Ze bepaalden aan de hand van scans de gezondheid van het skelet van de studiedeelnemers, en hoeveel vitamine C ze dagelijks via voeding of supplementen binnenkregen.

Resultaten
Hoe hoger de inname van vitamine C, hoe geringer de kans op osteoporose.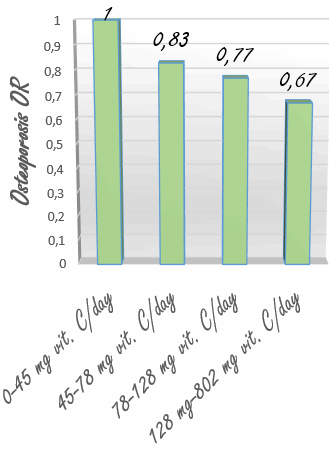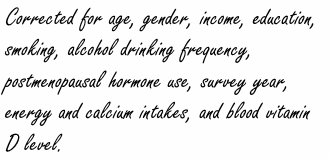 De onderzoekers verdeelden hun proefpersonen vervolgens in een groep die frequent deed aan moderate to vigorous physical exercise en een groep met een leefstijl zonder noemenswaardige lichaamsbeweging. Toen bleek dat een hoge inname van vitamine C alleen bij de niet-actieve studiedeelnemers beschermde tegen osteoporose. Het positieve effect van beweging op de botten is kennelijk zo sterk dat het positieve effect van vitamine C wegvalt.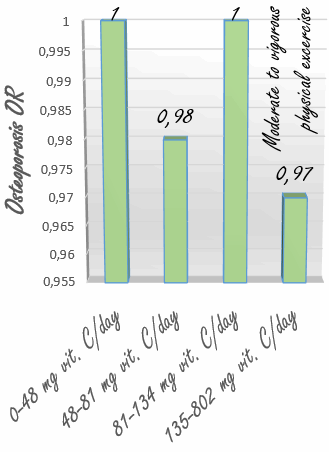 Mechanisme
"Arslan et al. [Libyan J Med. 2011;6.] suggested that vitamin C supplementation may provide alterations regarding improvement in oxidative stress and bone mineral density values. In addition, it was reported that vitamin C promotes the formation of collagen and the increase of calcium absorption [Indian J Clin Biochem. 2012 Jan;27(1):90-3.]", schrijven de Koreanen.
"The mechanical molecule signaling of vitamin C on bone density has not yet been investigated properly; however, vitamin C might have a critical role in prevention of bone loss by osteoclasts and in the stimulation of bone formation by osteoblasts. [Stem Cell Res. 2013 Jan;10(1):36-4.]"
"Its inhibitory effects on bone loss are related to suppression of the receptor activator of nuclear factor κ-B ligand (RANKL), Runx2 promoter that has a key role in osteoclast differentiation, and peroxisome proliferator activated receptor gamma (PPARγ) which induces the transition of osteoblasts to adipocyte. [Int J Exp Pathol. 2012 Oct;93(5):332-40.] [PLoS One. 2012;7(10):e47058.]"
"Moreover, vitamin C also inhibits the nuclear factor kappa-light-chain enhancer of activated B cell (NF-κB) proteins for osteoclastogenesis, which are activated oxidative stress."
Conclusie
"In the present results, the prevalence of osteoporosis in physically active individuals was diminished by increasing vitamin C intake", vatten de onderzoekers samen. "However, combining vitamin C intake with physical activity did not significantly decrease the prevalence of osteoporosis in Korean men and women aged 50 years and over."
"For the improvement and prevention of osteoporosis, more studies are needed into appropriate vitamins and physical activity for the elderly."
Bron:
J Phys Ther Sci. 2016 Mar;28(3):725-30.
Meer:
Dieet met veel olijfolie, fruit en vis beschermt tegen botontkalking (14-7-2017)
Betaïne maakt misschien niet alleen spieren, maar ook botweefsel sterker (28-6-2017)
Yoghurt is een beter wapen tegen botontkalking dan melk (12-5-2017)